Swervedriver 'Future Ruins Tokyo 2019' at Shibuya Womb, Tokyo, 3 September 2019
October 9, 2019
Review and photographs by Aki Fujita Taguchi
Proofreading by Yosuke Taguchi
With the sign of autumn in the warm rain on Tuesday night, English alternative band Swervedriver came back to Tokyo as part of their tour showcasing their new album 'Future Ruins'. I was very fortunate enough to get a chance to photograph this show.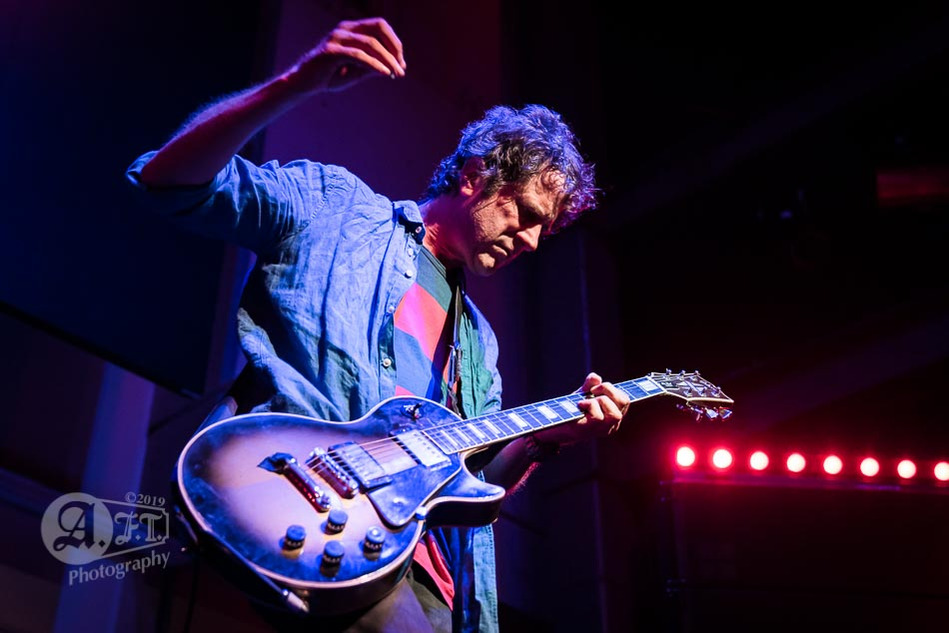 Swervedriver were formed in 1989 in Oxford, England. The band got a record deal with Creation Records immediately and drew attention at that time. They are often described as an originator of shoegaze, but I don't feel inclined to categorize their music as always. In fact, their sound consists of various elements, such as heavy rock, alternative, grunge, noise, etc.
They once split in 1999 and reunited in 2008. In their history of 30 years, they have changed their members and labels several times. They have released six studio albums, and each one has different style.
They started the show with 'Mary Winter' the first track of their latest album 'Future Ruins' and the house was filled with loud feedback noise right away. That's exactly what we all wanted! The audience began to sway with music. 'Drone Lover' the fifth track from the same albumfollowed. As you might know, the Japanese audience rarely makes a big noise during a concert. However, they apparently seemed to soak up the hypnotic atmosphere and enjoy the show.
Their set was well mixed with the new songs from their latest album 'Future Ruins' and their classics. The stage was basically lit darkly and the glitter ball lighting created the fantastic vibes. The effect went well with them.
Guitarists Adam Franklin and Jim Hartridge kept playing loud. Mikey Jones's powerful and tight drumming added the thickness to their sound. And Ben Ellis's undulating bassline was impressive. (Bass player Mick Quinn couldn't come to Japan for some reasons. Ben played the bass instead.) We were able to enjoy the wall of sound they created and it was an extreme pleasure to indulge ourselves in their loud noise.
They finished that night with the aggressive 'Son Of Mustang Ford', which was released in 1990 as their first single. The crowd absolutely loved it and went crazy. I have to add that I could see many young audiences attend the show to see the legends. Apparently they were not born in the band's heyday. It's really nice that they rediscovered the good band. With their 90 minutes set, they proved us why they are highly regarded as one of the most influential bands in their scene.
They have upcoming shows in Australia and England, then head to the United States in October. Check their updates on their website and Facebook page.
Website: https://www.swervedriver.com/
Facebook: https://www.facebook.com/swervedriverofficial/
Member:
Adam Franklin- Lead Vocals and Guitars
Jim Hartridge - Guitars
Mikey Jones - Drums
Ben Ellis – Bass
Set list:
1. Mary Winter
2. Drone Lover
3. Never Lose That Feeling
4. Setting Sun
5. 99th Dream
6. Future Ruins
7. Last Train To Satansville
8. The Lonely Crowd Fades In The Air
9. MM Abduction
10. Autodidact
11. For A Day Like Tomorrow
12. Deep Seat
13. Duel
Encore:
14. Rave Down
15. Son Of Mustang Ford
This article was also published on 3 music webzines. Check out the links below.
Shout About It UK: Swervedriver
Chasing The Light Art: Swervedriver
Silence Is The Enemy: Swervedriver