Opeth - In Cauda Venenum Tour in Japan - Zepp Tokyo, 6 December 2019
January 29, 2020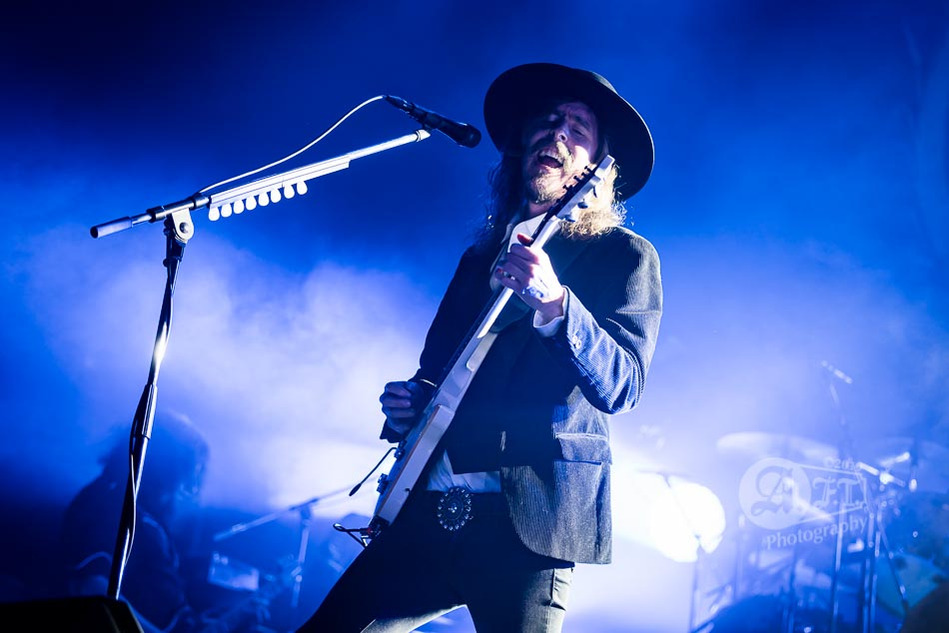 Words and photographs by Aki Fujita Taguchi
Proofreading by Yosuke Taguchi
Swedish progressive metal band Opeth have been on the road touring for showcasing their stunning new album 'In Cauda Venenum' and their tour stopped by in Tokyo on Friday. Before the show, the stage set and a huge band logo on the back screen were darkly lit and looked very atmospheric. That naturally raised our expectations very high.
Opeth was formed in Stockholm, Sweden, in 1989. The band has been through many personnel changes, the lead singer, guitar player and songwriter Mikael Åkerfeldt is the only founding member. They have released 13 studio albums and are currently on world tour supporting their latest album 'In Cauda Venenum', which was released in September of this year and critically acclaimed.
Opeth has their root in death metal. In addition to that, progressive rock, folk, blues, classical and jazz had big influences on their sound. Especially, the dramatic shift to progressive rock can be found on their recent works.
The sounds of the new album's opener 'Livets Trädgård' dramatically started that evening. 'Svekets prins' of the same album followed. Although their latest album 'In Cauda Venenum' was released in both English and Swedish language versions, Åkerfeldt seemed to want us to listen Swedish one. Since I'm not a native English speaker either, that's understandable. Indeed, they were a world-renowned band, but I think writing lyrics in Swedish must be natural for them. Three songs were played from the new album and all sung in Swedish. He often translated the meaning of Swedish words to English. And I've got to add, he was a masterful storyteller as well as an incredible musician! He told sarcastic jokes between songs and made us laugh frequently. He said he wanted to stay more in Japan because he wanted to dig records in various cities. That was a good surprise for me and formed an interesting contrast to their dark melancholic sound.
As with the mix of his death growls and clean vocals, the balance of heaviness and calmness is the most attractive and exciting points of their sound. This can't be done without each member's superb technique. They have lots of rhythm changes in their songs. Martin Axenrot's drumming and Martin Mendez's bass line were so sophisticated that I even didn't feel it was an odd beat, which made me so comfortable. Keyboard player Joakim Svalberg was also essential to their specific sound. Their signature Mellotron sound was so beautiful and captivated the audience. Lead guitarist Fredrik Åkesson's play style and tone were a little heavier than those of Åkerfeldt's. He sometimes took lead vocals, which was great too. Each member of this band was a maestro and they showed us their great musicianship.
The band played three songs from their new album and one song each from 5th album 'Blackwater Park' to 12th album 'Sorceress' in their 120 minutes set. In an encore, they performed their aggressive tune and fan's favorite 'Deliverance' from the same titled album and the audience got so excited.
Opeth's performance was simply riveting and the lighting of the show that night was the most beautiful I've ever seen. We were treated to a thrilling evening and will never forget this spectacular day. It was much more an awesome creative art event than a music show. Fingers crossed that we can see Opeth again in Tokyo!
For more information on upcoming tour dates, check out the band's website and Facebook page.
Website: http://www.opeth.com
Facebook: https://www.facebook.com/Opeth/
Member:
Mikael Åkerfeldt (Vocals, Guitars) / Martin Mendez (Bass) / Martin Axenrot (Drums) / Fredrik Åkesson (Guitars) / Joakim Svalberg (Keys)
Set list:
Tape: Livets trädgård / 1.Svekets prins / 2.The Leper Affinity / 3.Hjärtat vet vad handen gör / 4.Reverie/Harlequin Forest / 5.Nepenthe / 6.Moon Above, Sun Below / 7.Hope Leaves / 8.The Lotus Eater / 9.Allting tar slut
Encore: 10.Sorceress / 11.Deliverance
My photos were used on 2 music webzines. And as always, my photos and review were published on my 3 webzines. Check out the links below.
Ward Live Media (Review: Mirai Kawashima, Pictures: Aki Fujita Taguchi)
Roppongi Rocks (Review: Stefan Nilsson, Pictures: Aki Fujita Taguchi)