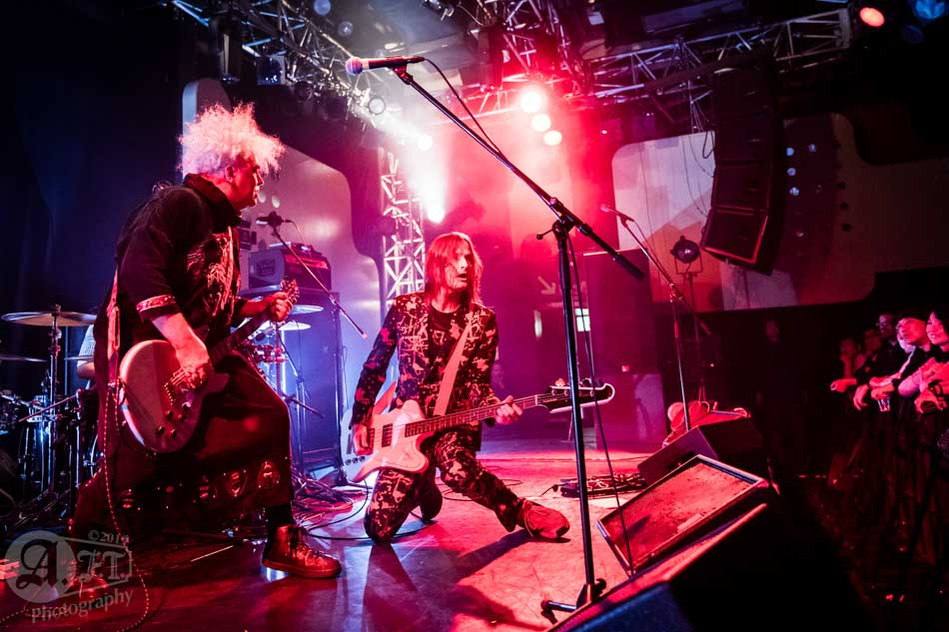 Words and photographs by Aki Fujita Taguchi
Proofreading by Yosuke Taguchi
The legendary American band Melvins brought a crazy live show to a sold-out crowd at Duo Music Exchange in Tokyo on Tuesday night. Their frenetic performance completely blew our mind.
Melvins were formed in Washington in early 1983. The iconic singer and guitar player Buzz Osborne and the drummer Dale Crover have been constant members since then. Although they sometimes performed as a four piece band with two drummers or two bassists through their long career, they are currently touring as trio with Redd Kross bass player Steven McDonald. Also, the band brought a LA-based Japanese sound engineer Toshi Kasai, who has been working with them since 2002 and making a massive contribution to their music.
Melvins' sound is variously described such as an alternative rock, sludge metal, grunge, noise rock, doom metal and so on. Throughout their career of over 35 years, they were never afraid of being experimental and creative. Sometimes it is even kind of eccentric and rich in black humor. Their signature sound had a great influence especially on grunge bands, such as Nirvana, Soundgarden, Green River, and many others as well as outside the grunge scene, like Tool, Boris, Mike Patton of Faith No More, Corey Taylor of Slipknot, Sunn O))), Lamb of God, Isis, etc.
They started the night with 'Sesame Street Meat' off 2014's 'Hold It In' and filled the packed venue with growling sound immediately. We were overwhelmed with their loudness and impressive stage presence.
As you may know, King Buzzo has a particular sense of fashion with his signature hairstyle and uniquely embroidered black robe. He moved so quickly onstage and his grinding riffs were very fast and aggressive. So it was more difficult to capture him during first three songs than I thought.
Bass player Steven was very cool and his beautiful long hair and a red and black tight-fitting suits made him look as if he was coming from 70's. He made classic rock god poses many times. His bass tone was also aggressive, which made their sound heavier and deeper. It was obvious that the audience loved his performance.
On the other hand, the drummer Dale appeared deceptively normal. But his drumming was insanely powerful and relieved our concerns about him, since the band cancelled their Japan tour in May due to worsening of his hernia. So we had eagerly awaited this show!
They delivered a full throttle set list containing a variety of material from their whole back catalogue. The audience was pumped up the most when the band played the fan's favorites, such as 'Hooch', 'Honey Bucket', 'The Bit' and 'Night Goat', which were all from 1993's legendary album 'Houdini'. The crowd got rowdy and a lot of crowd surfing and moshing broke out.
They wrapped up their 18-song set with Alice Cooper cover 'Halo of Flies'. They didn't play even one song from their latest album 'Pinkus Abortion Technician' released in 2018. However, both the band and the audience didn't seem to care about that. Surprisingly, Melvins performed 75 minutes in top gear without any breather. No banter, no encore. What a high-souled and brave way to end the show! With not slowing down, they showed genuine musicianship to us. The audience wanted noise and energy more and requested an encore even after the lights were turned on. But Melvins never came back. Honestly saying, this kind of show was totally new for me and I absolutely loved it. I admire the fact that they keep their own way. I think I understood why so many great musicians have respected Melvins.
Melvins live performance is especially awesome. We rarely see true high energy and passion in real life these days. Their live was the absolutely the BEST of this year for me. If you haven't seen them yet, get down to a show and feel their energy and passion!
For more information on upcoming tour dates, check out the band's website and Facebook page.
Website (official): http://www.melvins.com
Website (fansite): http://www.themelvins.net
Facebook: https://www.facebook.com/melvinsarmy
Member:
Buzz Osborne - lead vocals, guitars
Dale Crover - drums, percussion, vocals
Steven Shane McDonald - bass guitar, vocals
Set list:
1. Sesame Street Meat
2. The Kicking Machine
3. Anaconda
4. Queen
5. It's Shoved
6. Oven
7. With Yo' Heart, Not Yo' Hands (Malfunkshun cover)
8. Billy Fish
9. Charlie (Redd Kross cover)
10. Civilized Worm

11. Hooch

12. Honey Bucket
13. A Growing Disgust

14. Your Blessened
15. The Bit

16. With Teeth

17. Night Goat

18. Halo of Flies (Alice Cooper cover)
This article was also published on 3 music webzines. As always, thank you so much my editors for all your hard work. Check out the links below.
Silence Is The Enemy monthly PDF magazine issue 1