Magma at Shibuya
WWW

/

EX

Theater, Tokyo, 20 / 21 September 2019 November 1, 2019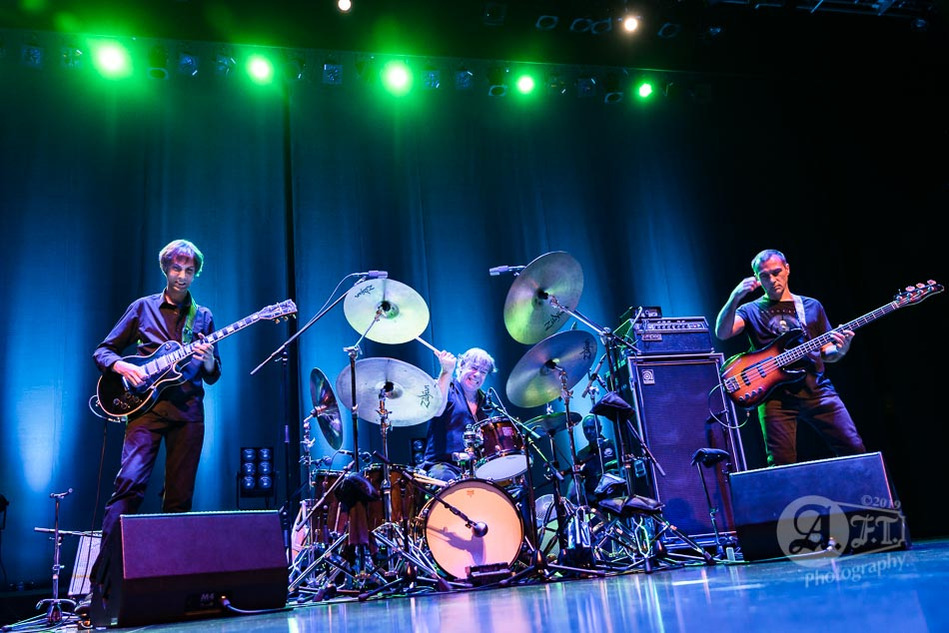 Review and photographs by Aki Fujita Taguchi
Proofreading by Yosuke Taguchi
What an honor to be given an opportunity to photograph the legendary Magma for two days! The band were back in Tokyo as part of their tour '50 ans après'. They performed an acoustic show on the first day and played a full-scale show on the second day. I witnessed their pure magic happening on stage.
Magma were formed in Paris in 1969 by drummer and composer Christian Vander. Through many changes of members, he is still the leader and inspiration of the band. Their music was named as Zeuhl in the 1960s. The word came from Kobaïanlanguage which was created by Christian. Zeuhl is a music form played by a group and it includes chanted choral motifs, repetitive percussion, and many improvisations. The hypnotic repetition let us go into the comfortable trance state. The elements of jazz, progressive rock, avant-garde, opera, classic and minimalism are included in Zeuhl, and it sounds like a rock opera comes from space. I'm not sure if you could understand this explanation. But anyway, I recommend that you go seeing their show and experience their music. It's beyond the words.
On the first night, I headed to Shibuya WWW. The venue had a cool atmosphere because it had originally been built as a movie theater. The house was already filled with their fan's excitement and there were long lines of people waiting to buy Magma goods.
The stage set was quite simple with only black backdrop. As it was planned to be an acoustic night, there was no drum kit on stage. I felt the air in the room was thin because of the audience's big expectations.
Very quietly, Christian opened the night with 'Ügüma mà mëlìmëh gïngeh' alone, singing and playing a piano solo. The tune was the cover song from his other band Offering. He continued a medley of piano solo for a while. I could feel his big love and admiration for John Coltrane in his play. Stella appeared onstage and sang 'Le Ballet Des Sorcieres' next. Then Isabelle and Hervé took to the stage and added their beautiful vocals.
Suddenly, introduction of Zëss was played and the crowd got excited. This tune has been played since 70s, and finally they recorded it in the studio and released it this June as their latest album. However it ended before the drum section started. They seemed to tantalize us… Then, Jerome replaced playing the piano and Christian stood at the back of the stage. He sometimes added chorus and played tambourine. Benoît joined the band on vibraphone and Rudy on acoustic guitar. The band was completed and performed K.A. I.
The last song of the main set was their most recognized tune 'Mekanïk destruktïw kommandöh' . Christian's vocals were so incredible. He sang as if he was playing saxophone with his both hands holding his microphone. This is his signature style of singing and the crowed enjoyed seeing it.
They played 'Ehn deiss' (Offering cover) for an encore, and received a standing ovation. Even after they went off the stage and the house was lit up, the crowd didn't leave and they kept on clapping their hands requesting the second encore.
On the next day, the show was played at a bigger venue, EX Theater in Roppongi. Christian's drum kit was set on the center of the stage from the first. Sunn O)))'s experimental doom sound was played on the background before the show started. There was 15-minute silence after the music had stopped. During the awkward silence, expectations were raised, then, the cacophonous chords of 'Ëmëhntëhtt-ré' opened that night.
Bass player Philippe Bussonet joined the band on this day. His driving bass line was so dynamic and stood out. Christian appeared to be in his best condition as well as yesterday. He often smiled in a satisfied fashion. All members were dressed in black or Magma T-shirt and the whole band looked like a scene from a Federico Fellini movie.
Their music led us to the fantastic trance state with minimalism and relentless repetition. That's why we love Magma and the first reason we go to experience their show, in other words, the ritual.
For their encore, they played the addictive 'De Futura' from their sixth studio album 'Üdü Ẁüdü' released in 1976. The audience lost their mind and indulged themselves in Magma world. It's surprising they played their high-energy 120 minutes set without stopping.
Magma has evolved their sound over 50 years. Their endless creativity and energy are totally awesome. I'm sure this kind of great art doesn't happen so often. You must see Magma live if you haven't experienced yet. They have upcoming shows in Europe in October. Tour information can be found on their website and Facebook page.
Website: http://www.magmamusic.org
Facebook: https://www.facebook.com/zeuhlwortzmekanik/
Member:
Christian Vander – Drums, Vocals
Stella Vander - Vocals
Isabelle Feuillebois - Vocals
Hervé Aknin: Vocals
Jérome Martineau-Ricotti : Keyboards
Benoît Alziary: Vibraphone
Philippe Bussonet - Bass
Rudy Blas - Guitar
Set list: 20 September, Shibuya WWW
1. Ügüma mà mëlìmëh gïngeh (Offering cover) (Christian Vander solo)

2. Celui qui a Donne / Seul dans la Nuit / Le Temps Passe est Merveilleux / Hymne a Wagner / Blues for Alice Coltrane (Christian Vander solo)
3. Le Ballet Des Sorcieres
(Christian Vander song) (Christian Vander & Stella Vander)
4. Ronde de nuit (Christian Vander song) (Christian Vander, Stella Vander & Isabelle Feuillebois)

5. Zëss (introduction only; Christian Vander, Stella Vander, Isabelle Feuillebois & Herve Aknin)

6. K.A. I (acoustic set without Philippe Bussonnet)

7. Mekanïk destruktïw kommandöh (acoustic set without Philippe Bussonnet)

Encore:
8.Ehn deiss (Offering cover) (acoustic set without Philippe Bussonnet)
Set list: 21 September, EX Theater
1. Ëmëhntëhtt-ré

2.Theusz Hamtaahk / Wurdah Ïtah / Mekanïk destruktïw kommandöh

Encore:
3. De Futura
This article was also published on 3 music webzines. Thank you so much my lovely editors for all your hard work. Check out the links below.
In response to fan's request, I have added more pics of Christian Vander. Hope you enjoy! (29 Dec. 2019)