Loudness 'Metal Weekend 2019' at Zepp DiverCity Tokyo, 14 September 2019
October 25, 2019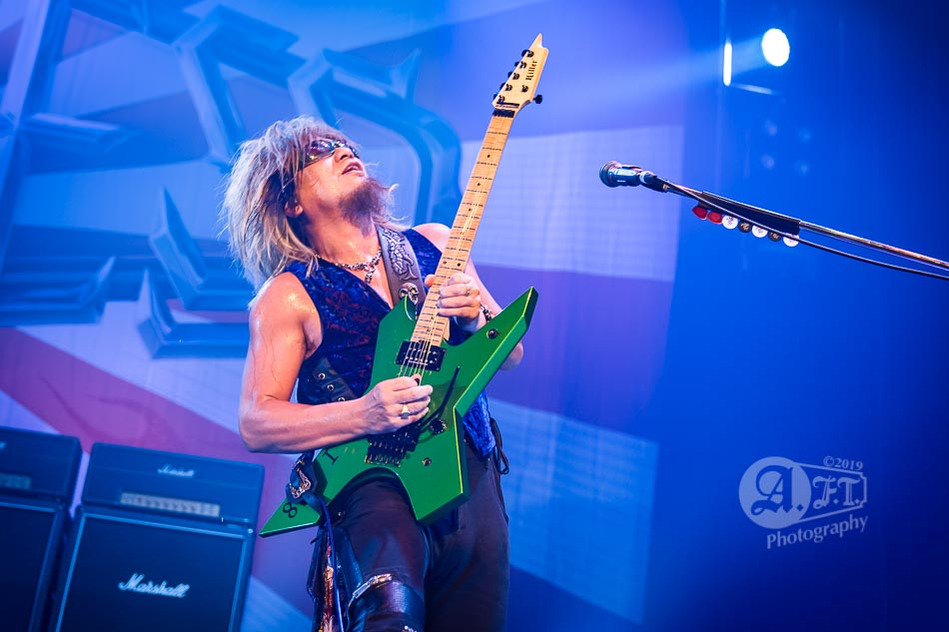 Review and photographs by Aki Fujita Taguchi
Proofreading by Yosuke Taguchi
Have you ever heard of Japanese heavy metal band Loudness? I was very happy to receive many preferable responses when I posted on my social media that I had a great opportunity to photograph the metal legends Loudness. My online friends from around the world, such as America, Europe, Asia actually commented and messaged me how cool Loudness were with excitement and they said they would love to see my photos. It was clear that they respected the band for sure. I've never met this kind of response to Japanese band. I'm really proud of them and I imagined how hard it was to get such an international reputation.
Loudness were formed by guitar player Akira Takasaki and drummer Munetaka Higuchi in 1981. They made history being the first Japanese metal band to sign with a major label in the United States. Although they have changed their members many times, the original four members reunited in 2001. However, it's really regrettable that Munetaka Higuchi passed away from his illness in 2008. After that, Masayuki Suzuki joined the band to fill the spot. After the release of their 27th studio album 'Rise To Glory', he was diagnosed as a stroke. Since then, drummer Ryuichi Nishida has been touring with them as a support member and waiting for Suzuki's recovery.
'Metal Weekend' is the big metal music event organized by Loudness. It was held for two days this year, and I had a big honor to photograph Loudness performing as the headliner of the first day.
The hall had already been heated up with great performances of the other bands. With the cool introduction of '8118' from their opening track of the latest album 'Rise To Glory', they appeared onstage and immediately burst into their hit song 'Crazy Nights' from their incredible fifth album 'Thunder In The East'. The crowd got into a frenzy right away. They pumped their fists into the air and sang along loudly. Tonight was going to be crazy! Then 'Heavy Chains' from the same album followed.
Guitar player Akira Takasaki demonstrated his amazing guitar skills. His speedy, aggressive, and accurate guitar work is exceptional. In addition, his stage presence was outstanding. He literally looked like a Guitar God with bright and dramatic lighting. Without a doubt, he is one of the greatest guitarists on this planet!
Minoru Niihara's signature voice is also essential for the Loudness sound. A little husky, and rich tone vocals cover every type of songs. It is nothing short of brilliant. He often talked to the audience very friendly and they loved every second of such interactions.
What it takes to be a great rock / metal band, the rhythm section is the most important part. Ryuichi Nishida's drumming was so dynamic and exciting that I almost forgot that he was a support member. Bass player Masayoshi Yamashita often stood on the drum riser and slapped his bass there. He looked very natural and being comfortable on it. Rhythmically they were tight and it was obvious they trusted in each other.
Loudness delivered a stunning set with a mix of new songs and well-known hits from their entire history. The last song of the show was the heavy and aggressive 'S.D.I', which was the first track of the album 'Hurricane Eyes'. They were full of energy and we had a blast with the exciting last song. Thanks to the Gods of Heavy Metal. It was an unforgettable night! Every member of the band showed stellar musicianship and we enjoyed it. However, the one-hour set ended too quickly, and actually we wanted more. The good news was that they announced they would hold their festival 'Metal Weekend 2020' next year. I can't wait for the details to be followed. In addition, they recently announced European tour dates in 2020. Never miss the opportunity to witness Japan's finest metal band Loudness!
Check their updates on their website and Facebook page.
Website: http://www.loudnessjp.com
Facebook: https://www.facebook.com/LOUDNESS_OFFICIAL-222003877819441/
Member:
Akira Takasaki - Guitar
Minoru Niihara - Vocal
Masayoshi Yamashita - Bass
Ryuichi Nishida - Drums (Tour member)
Set list:
Intro. 8118
1. Crazy Nights
2. Heavy Chains
3. Soul on Fire
4. I'm Still Alive
5. In the Mirror
6. So Lonely
7. Black Widow
8. This Lonely Heart
9. Crazy Doctor
10. S.D.I.
This article was also published on 3 music webzines and went viral! Check out the links below.
Chasing The Light Art: Loudness