Buckcherry w/ Jared James Nichols at Liquidroom, Tokyo, 15 October 2019
January 16, 2020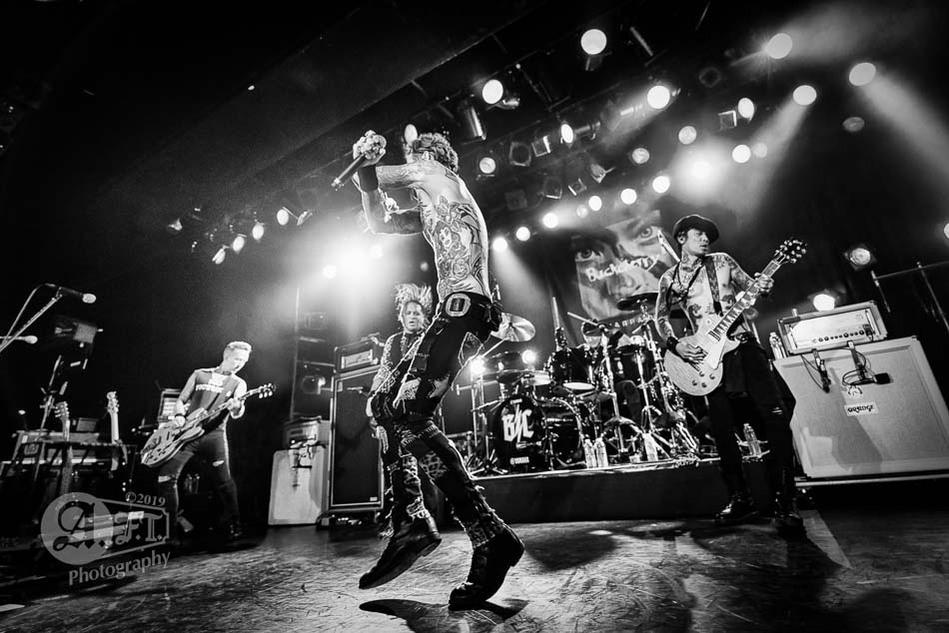 Words and photographs by Aki Fujita Taguchi
Proofreading by Yosuke Taguchi
Los Angels based five piece rockers, Buckcherry rolled into Tokyo as part of their tour promoting their new album 'Warpaint'. The cool venue Liquidroom was packed with fans and they were ready to start the party.
Getting the evening started, they had the amazing blues-rock guitarist Jared James Nichols opening for them. Jared is a Wisconsin-born, Los Angeles-based singer, writer and guitarist, who is well known for his 'pic-less' playing style. I guess most of the audience didn't know him very well because this was his first visit to Japan. However his incredible performance made it clear this had been a big loss for us! He grabbed the audience from the first note. Bass player Baron Fox and drummer Dennis Holm created the tight and powerful rhythm part for supporting Jared's play. In addition to his great playing skills, his stage performance was so dynamic and impressive. He walked into the crowd and interacted with them easily. He looked like a very friendly Guitar God.
After the show, I talked to him at the merchandise booth since his performance was so fantastic. People waited in a long line to talk to him and get his latest album 'Black Magic' which was released in January 2018. I believe this show was the best chance to make out his Blues Power to the appreciative Japanese audience and he got so many new fans on this tour.
By the time Buckcherry appeared on the stage, the house had already got hot with Jared's great performance. The atmosphere created by him raised expectations for the headliner.
Buckcherry were formed in California in 1995. They once split up in 2002 and reunited with new lineup in 2005. The lead singer Josh Todd is the only founding member of the band. They have released eight studio albums and are currently on world tour supporting their latest album 'Warpaint' which was released in March of this year. I had the great pleasure photographing their Tokyo show.
The house blacked out and fully tattooed cool rockers took to the stage. The crowd cheered with an insane excitement. You may not know, but tattoo is not so quite common in Japan. Therefore, their style is rare and looks much cooler here.
They started with 'Head Like a Hole', which is the cover song of Nine Inch Nails and included in their latest record 'Warpaint'. 'Whiskey in the Morning' from the second album 'Time bomb' followed. They delivered a stunning set, which was filled with their hit songs and new materials, and it was well received by the audience. They sang along loudly to many hits with a look of delight on their faces. It was fun to watch the audience truly enjoy the show. Also, the frontman Josh was really interesting to watch because he jumped around the stage and moved so quickly and smoothly. I have no idea how he can keep in shape and being cool all the time.
At the latter part of the show, they performed a Kenny Loggins cover 'Footloose' and everybody in the venue started dancing. They continued with 'Crazy Bitch' from their third album '15' and it was the final song of the main set. The crowd got into a frenzy and that moment was definitely the highlight of the night.
I feel very fortunate to be able to experience Buckcherry's live. Their show was truly awesome, full of raw energy and filled with fun party atmosphere. It allows us to be free from uninspiring reality. That's why we never stop to go to rock live shows, isn't it?
For more information on upcoming tour dates, check out the band's website and Facebook page.
Jared James Nichols (Facebook): https://www.facebook.com/Jaredjamesnichols/

Jared James Nichols (YouTube): http://www.youtube.com/jjnicholsmusic
Member: Jared James Nichols (Vocal)/ Dennis Holm (Drums) / Baron Fox (Bass)
Buckcherry (Website): http://buckcherry.com

Buckcherry (Facebook): https://www.facebook.com/buckcherry/
Member : Josh Todd (Vocal) / Stevie Dacanay (Guitar) / Kelly Lemieux (Bass) / Kevin Roetgen (Guitar) / Sean Winchester (Drums)
Setlist (Buckcherry):
1 Head Like a Hole (Nine Inch Nails cover)
2 Whiskey in the Morning
3 Ridin'
4 Radio Song
5 Lit Up
6 Somebody Fucked With Me
7 Right Now
8 Everything
9 Too Drunk…
10 Sorry
11 Gluttony
12 The Alarm
13 Footloose (Kenny Loggins cover)
14 Crazy Bitch
Encore:
15 Say Fuck It
This article was also published on 3 music webzines. Thank you so much my editors for all your hard work. Check out the links below.
Chasing The Light Art : Jared James Nichols
Chasing The Light Art: Buckcherry
Shout About It: Buckcherry w/ Jared James Nichols
Silence Is The Enemy: Buckcherry w/ Jared James Nichols