Boyzone 'Thank you and Goodnight Farewell Tour 2019' w/ Brian McFadden - Toyosu Pit, Tokyo, 25 June 2019
July 2, 2019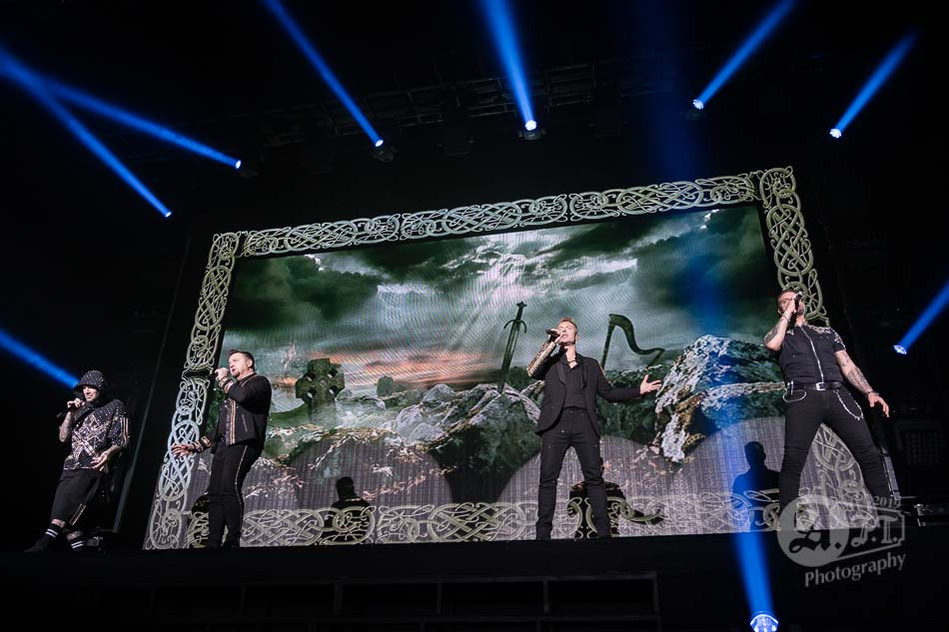 Irish pop vocal group Boyzone hit Tokyo on Tuesday night. This was their first concert in Japan, and it would be the last. Unfortunately, they've already announced that they would split the band at the end of this year. So they came here during their 'Thank You & Goodnight World Tour' to say farewell directly to their Japanese fans.
Boyzone were formed in 1993 in Dublin, Ireland. They once broke up in 1999 and reunited in 2007. They were in their heyday in the 90s, but they still have a very loyal fan base especially in UK and Asia. I saw many diehard fans came from South East Asia solely for the purpose of attending Boyzone's Japan tour.
'Thank You & Goodnight' was the seventh studio album, which was released in November 2018. They are currently on their final world tour with this album.
Getting the evening started, they had the great pop singer Brian McFadden opening for them. He is a founding member of Irish boy band Westlife. We enjoyed his upbeat performance filled with his solo tracks and Westlife hits. To my surprise, I came across one of the highlights during this opening set.
When Brian came down to the floor and enjoyed singing and interacting with the crowd, he suddenly found a dedicated fan singing along with him very well. Brian was impressed and asked his name. Surprisingly, his name was also Bryan! (Although they are differently spelled)
Brian asked Bryan to get up on the stage, and they sang 'Uptown Girl' (Westlife hit song, Billy Joel cover) together. I must say that Bryan sang the song perfectly, and also his stage presence was confident and natural. Just amazing!
I couldn't help interviewing with Bryan after the show because his voice and performance were really awesome.
His name is Bryan Cubelo. He is from Philippines, lives and works in Tokyo. At first, I thought he was a professional singer, but his occupation is an English teacher. He has been a huge fan of Boyzone since 1994 and also loves Westlife. He loves to sing for two decades and has experienced many opportunities to sing in glee clubs, bands and weddings. I'm pretty sure his appearance made a big appeal to both the band and the audience.
After a short break, Boyzone took to the stage. The crowd welcomed them with deafening cries of joy. The set list was a brilliant mix of old and new songs including some covers. Keating's sweet and husky voice mesmerized the audience. In addition to artisitic films, their old videos were projected on the big screen one after another and the lighting was very bright throughout the night. It was a great way to remember their history of over 25 years.
In the middle part of the show, the band paid a tribute to founder member Stephan Gately, who passed away unexpectedly in 2009 due to a heart defect. Their attitude of respect was really touching. It was clear that Stephan was still on stage with the remained four members, Ronan, Mikey, Keith and Shane. We are able to hear Stephan's voice in 'Dream', the last track from their latest studio album 'Thank You & Goodnight'. They featured Stephan's vocals from a salvaged demo. So I guess that their whole tour must be a tribute and farewell to him.
It was very nice to see the band members were on good terms with each other and having fun during the show. Lots of joking, smiles and hugs on stage proved that they still had a strong bond and maintained a spirit of brotherhood.
Their show was visually stunning and filled with love, laughter and happiness. We enjoyed their entertaining show and spent a delightful evening of dance and music.
For more information on upcoming tour dates visit the band's website and Facebook page.
Website: https://boyzonenetwork.com
Facebook: https://www.facebook.com/Boyzone/
Member:
Ronan Keating
Mikey Graham
Keith Duffy
Shane Lynch
Stephan Gately (passed away in 2009)
Set list:
1. Who We Are
2. Love Is A Hurricane
3. Isn't It A Wonder
4. Coming Home Now
5. Baby Can I Hold You (Tracy Chapman cover)
6. You Needed Me (Anne Murray cover)
7. All That I Need
8. I Love The Way You Love Me (John Michael Montgomery cover)
9. Father & Son (Cat Stevens cover)
10. Everyday I Love You
11. Words (Bee Gees cover)
12. When You Say Nothing At All
13. Love Me For A Reason (The Osmonds cover)
14. No Matter What
15. When The Going Gets Tough (Billy Ocean cover)
16. A Different Beat
Encore:
17. Life Is A Rollercoaster (Ronan Keating song)
18. Picture Of You
Words and photos by Aki Fujita Taguchi
Proofreading by Yosuke Taguchi
- Bonus chapter - interview with Bryan Cubelo
Jessica and I caught Bryan after the show and interviewed with him.
Firstly, all of you should watch these videos captured by Jessica GU.
Brian Mcfadden snuck into the crowd and found Bryan. They sang together 'My Love' on the floor. (Video by Jessica GU)
Uptown Girl, Brian Mcfadden with Bryan. (Video by Jessica GU)
Hi Bryan, we really enjoyed your amazing performance with Brian Mcfadden. You have a great voice!
B: Thank you so much!
Where are you from and How long have you been in Japan?
B: I'm from Philippines and I'v lived in Tokyo almost 2 years.
Oh, you reminded me of Arnel Pineda, the current singer of Journey. He is from Philippines as well.
What's your occupation? I thought you were a professional singer!
B: No, but thank you. It's a great honor. I love singing, but I'm an English teacher.
That's great. I know that many Pilipinos teaches English in Japan.
When did you start singing?
B: I think it was almost 20 years ago. All my family love music.
I have experienced many opportunities to sing in bands, glee clubs, weddings and many more.
Have you ever experienced to sing on a big stage like this?
B: No, I've done it on smaller stages… It was just amazing!
How long have you been a fan of Boyzone?
B: Since 1994.
Wow, you have been a diehard fan as I expected!
What are your top 3 favorite bands? (except Boyzone and Westlife)
B: U2, Coldplay, Maroon 5.
U2 are coming to Japan this winter. Have you got your ticket?
B: Not yet. I'd love to see their show!
What are your top 3 Boyzone songs?
B: 1. Key To My Life, 2. Picture Of You, 3. Love Me For A reason
What do you like about Japan?
B:
1. City. There are many interesting areas in Tokyo, such as Shibuya, Shinjuku and Roppongi, Night life is fun too.
2. People. Japanese people are very kind and polite.
3. Culture. The mix of modern and traditional culture is really nice.
Do you have any message to the band?
B: I'm wishing you all the best. Good luck on your new venture!
Thank you for your time Bryan. Again, your performance made a big impact on us.
I'd love to see your show on the big stage again!
Interview by Jessica and Aki, Photos by Aki, Videos by Jessica GU.
(Thank you Jessica GU for making this happen and sharing these great videos!)